Beswick Machinery represents the world's leading manufacturers of equipment for the packaging, converting and printing industries. The specialist team has over 180 years of experience between them and handles new equipment sales, spares ordering and processing, full installation, maintenance, training and process support.
Beswick's headquarters is based in Johannesburg and they have an office in Cape Town but their team operates nationally, creating a widespread presence throughout South Africa. Since Mid 2014, Beswick represents Apex International's range of products for the printing and packaging industry.
Bruce Beswick (Managing Director of Beswick) states: "Apex anilox products are approved and deployed by all leading machine manufacturers in the flexo, offset and coating industry. We were very happy to add these products to our range.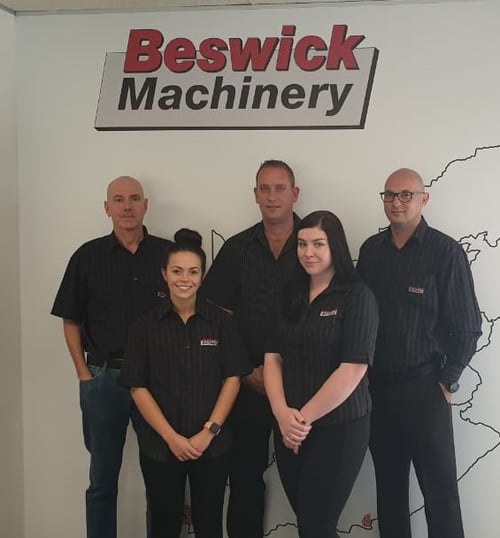 Photo, from left to right: Bruce Beswick, Marinela Verissimo, Julian Redemeyer, Jayde McMurray, Riaan Hopley
Riaan Hopley, responsible for the Web Fed division within Beswick states "Apex is always at the forefront of new innovations in the flexoprinting industry. We just attended the sales meeting in Hapert/NL, where we were given a technical training on the newest innovations. Amongst these are: Bellissima DMS, the ultimate in flexographic screening, which delivers a previously unobtainable level of image reproduction for flexo. Since the beginning of this year, Apex supplies Carbon Fiber rolls, which have a high rigidity, low deflection and the use leads to increased speed, higher productivity and safer and easier handling. Last but not least the GTT 2.0 Anilox technology was presented. GTT is on the market for almost a decade, however, the past year the new version 2.0 was launched and in no way this can be compared to the 'older' version. The level of consistency, reproducibility and repeatability has become even better. The patented laser engraving technology, in combination with the constant-beam and the extreme hard ceramic layer are responsible for achieving this."
Joris Cabri, head of Sales at Apex Europe, comments, the cooperation with Beswick is an important one to Apex. Beswick and Apex share the same norms and values when it comes to customer service and providing high quality products. The technical skills of the Beswick team make a difference when it comes to offering a total pack of products, service and advice. This year we celebrate our anniversary of working together for 5 years and I hope we can continue our cooperation for many more years, in the interest of the South Africa Printing and Converting industry.
---------------------------------------------------------------------------------------------------------------------------------
Apex International located in Hapert, The Netherlands, is the international leader in the production and supply of Anilox and metering rolls for the global printing industry. Apex has five production facilities on four continents and clients in more than 80 countries. Not only did Apex pioneer the original 60-degree hex-cell engraving and the patented GTT2.0® technology, but also enabled high-performance Flexo through advances in laser technology, ceramics, and metallurgy.
www.apex-groupofcompanies.com
Mediacontact: Jeanine Graat - Marketing Manager, Apex Europe BV
Tel. 31 (0) 497 361 111 / jgraat@apex-europe.com